The Nineteenth Tripartite Presidents Meeting (TPM19) among the Chinese Research Academy of Environmental Sciences (CRAES) of China, the National Institute for Environmental Studies (NIES) of Japan and the National Institute of Environmental Research (NIER) of Korea was successfully hosted by CRAES on November 24, 2022.
President LI Haisheng remarked that Chinese government has always attached great importance to ecology and environmental protection, and has made historic progress under the guidance of Xi Jinping Thoughts on Ecological Civilization during the past decade. He concluded the recent achievement of CRAES in scientific innovation and decision support from three aspects, including serving the top-level design of ecological and environmental protection, facilitating a comprehensive green transformation of social and economic development, and supporting "in-depth efforts" to cut pollution.
He highlighted the launching of National Joint Research Center for Tackling Key Problems in Air Pollution Control (NAPC) at CRAES, which united about 3000 researchers from 295 institutions across the country, carried out tailored research in 28 major cities in Beijing-Tianjin-Hebei and its surrounding areas, and significantly contributed to the remarkable improvement of air quality in the region.
Three Presidents discussed future cooperation in air pollution, water environment, climate change and environmental health. They agreed that synergizing the reduction of pollution and carbon emissions, and coordinated control of PM2.5 and O3 could be future cooperation focuses in the field of air pollution, while more advanced technologies and practices could be shared among the three institutes in the field of water environment. They emphasized the importance of jointly optimize future collaboration under the TPM mechanism and signed the Joint Communiqué of TPM19 and they are looking forward to making a greater contribution to environmental quality improvement in northeast Asia.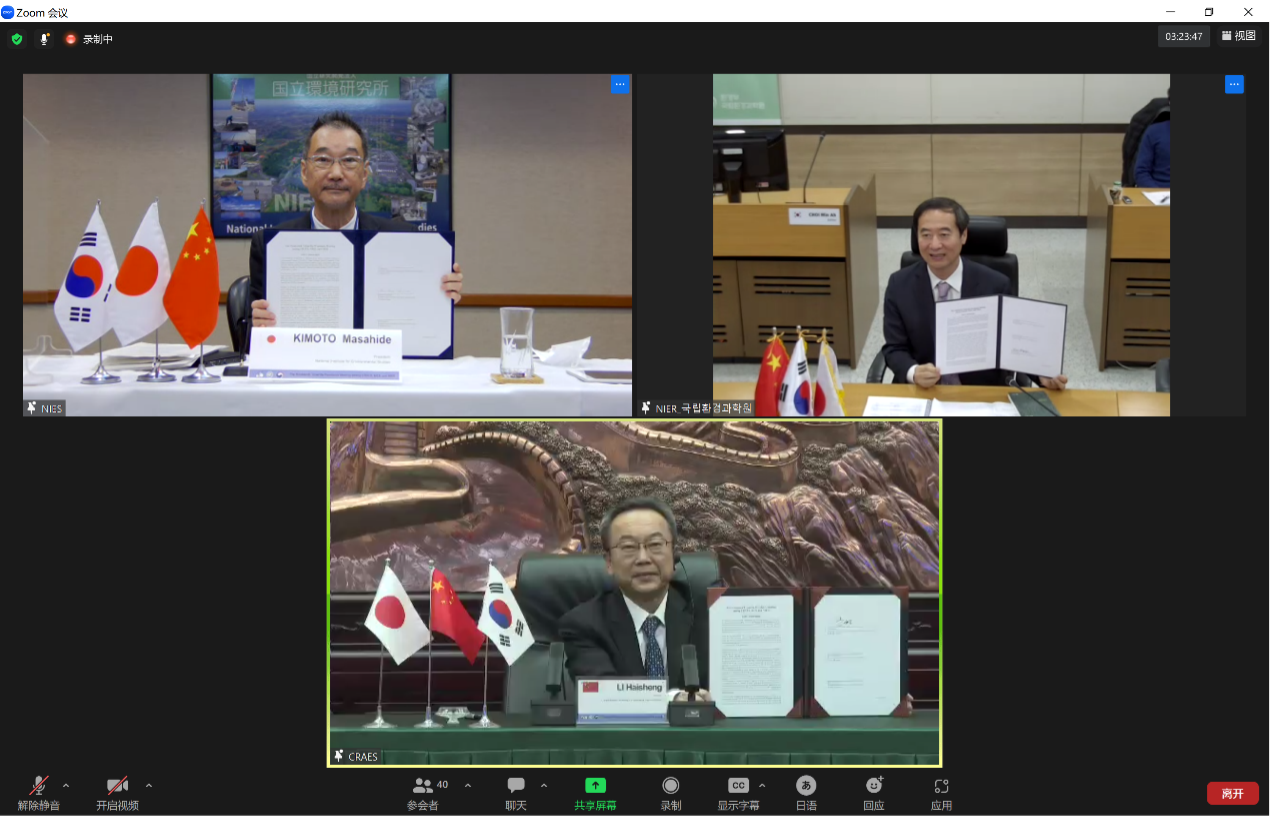 Other news resources
Achievements made in reducing air pollution (China Daily)
https://www.chinadaily.com.cn/a/202211/25/WS638016a6a31057c47eba0ff8.html
Researchers' efforts key to improved air quality (China Daily)
https://www.chinadaily.com.cn/a/202211/24/WS637f36bfa31057c47eba0ea2.html